Strides International Business Pte Ltd (Strides) and Egis are opening a new chapter in their long-term partnership, as they plan to strengthen collaboration on delivering high-end cybersecurity services in the rail domain. The two companies will sign a new Memorandum of Understanding (MOU) this week at the LTA-UITP Singapore International Transport Congress and Exhibition. The agreement sets the stage for enhanced collaboration to provide consultancy on cybersecurity projects to rail operators globally. This MOU will enable the two teams to work even closer together. The agreement builds on existing relationships with between Egis and Strides.
Strides, a business arm of Singapore's pioneer and dominant rail operator SMRT Corporation Ltd, leverages SMRT's extensive rail experience, and is a trusted provider of mobility and transit solutions and services. Strides offer clients experience-led solutions and services in rail operations, maintenance and engineering, as well as mobility and transit lifestyle offerings to service commuters from the first mile, to the last.
Egis' cybersecurity business arm leverages Egis' 50 years of experience in the rail domain to deliver tailored cyber solutions to the needs of the Rail Delivery and Operating Environment. Egis' smart and adaptive approach to rail cybersecurity includes detection, prevention, mitigation, and resilience, limiting exposure to risk and downtime. From initial security posturing to support with managed security services, Egis delivers services right across the cybersecurity lifecycle.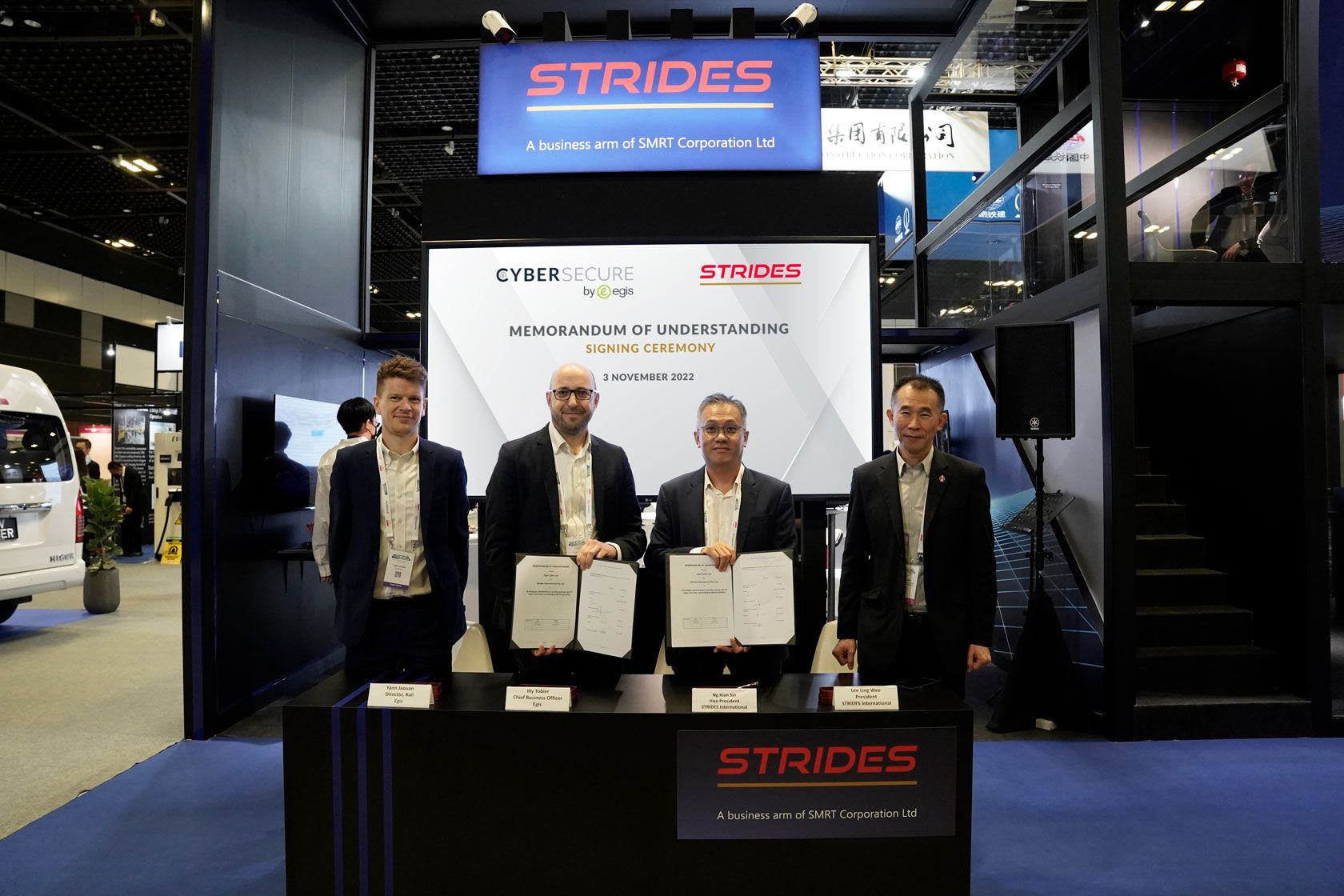 Illy Toiber, Chief Business Officer of Egis Cyber Ltd, noted: "The best time to start building cyber resilience was yesterday, the next best time is now. We are excited to continue our fruitful relationship with Strides in the Rail Cybersecurity Domain. Deep collaboration with partners is essential for the delivery of high-end cybersecurity services, and Strides continually proves to be the right partner for us. Together we will better protect the availability, integrity, and confidentiality of our clients' data and systems, while enhancing the safety of their operations, thanks to our combined design, engineering and O&M capabilities."
Lee Ling Wee, President, Strides International Business Pte Ltd and Strides Rail, said: "We are excited to offer our services to rail operators around the world, as they seek to protect their critical infrastructure and operations against cybersecurity threats. Rail Cyber Security solutions requires strong domain knowledge in cyber security and rail engineering design/ operation. This partnership with Egis will assist our customers to fast-track the adoption of industry standards and to become even more cybersecure."