ST Engineering and Strides International Business (Strides) today announced that they have entered into a Memorandum of Understanding (MOU) to foster cooperation in pursuing international opportunities in rail, road and electric vehicles (EV).
Under the MOU, both companies will jointly provide technical, operational and maintenance expertise in electric vehicles, intelligent road transportation and rail electronics for future land transportation projects overseas. ST Engineering will contribute its established expertise in diesel-to-electric bus retrofit, integrated EV payment platforms, as well as smart metro solutions, road traffic management and fleet management, while Strides will provide capabilities in operations, maintenance and service (OMS) of transport and rail networks, driver and driverless transit products and systems, deployment of electric vehicles, mobility solutions, as well as strong rail engineering and non-fare expertise, such as in transit properties.
ST Engineering and Strides will also work together to build train and railway systems testing and commissioning capabilities in Singapore, and develop joint go-to-market activities in key markets in Asia-Pacific, Europe and the Middle East. To date, ST Engineering has implemented over 300 intelligent rail and road projects in more than 50 cities worldwide, while Strides has 40 years of experience in designing, developing, operating and maintaining transport and mobility solutions, as well as delivering Operation & Maintenance (O&M), Engineering, Mobility and Transit Lifestyle solutions across Asia, Europe and the Middle East.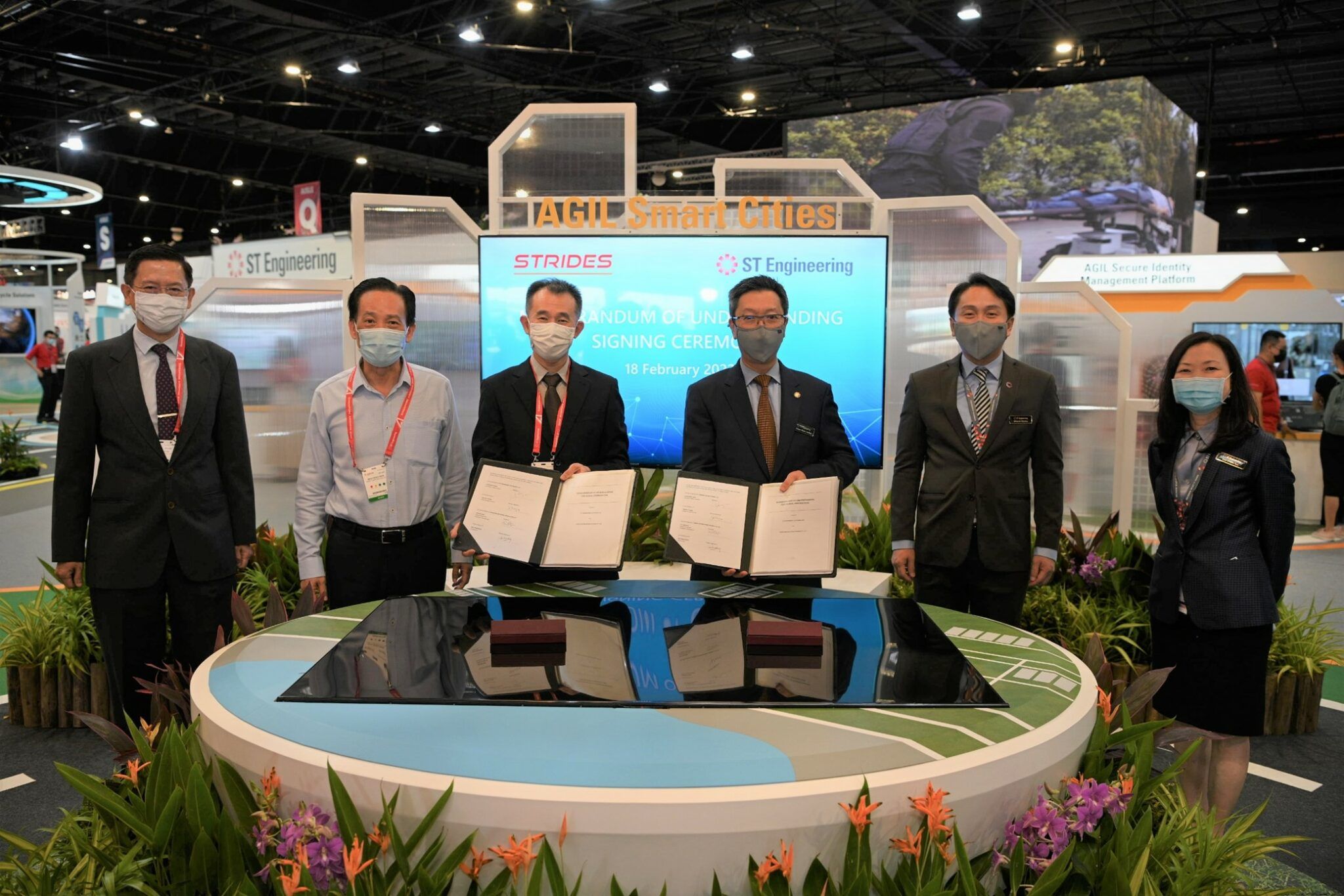 [L-R]: Mr Neo Kian Hong, Group Chief Executive Officer, SMRT Corporation; Mr Seah Moon Ming, Chairman, SMRT Corporation; Mr Lee Ling Wee, President, Strides International Business; Mr Chew Men Leong, President, Urban Solutions, ST Engineering; Mr Vincent Chong, Group President & Chief Executive Officer, ST Engineering; and Ms Tan Lee Chew, President Commercial, ST Engineering.
"ST Engineering's and Strides' complementary capabilities and deep experience in advanced rail and road technologies will strengthen our combined Smart Mobility offerings and advance our shared ambition of expanding our global presence. Specifically, our combined offerings in vehicle electrification will enhance our value proposition to customers who are looking to accelerate the transition of their fleets and technology infrastructure towards more sustainable transportation," said Chew Men Leong, President, Urban Solutions at ST Engineering.
Lee Ling Wee, President, Strides International Business, said, "We look forward to partnering ST Engineering to enter the rail and mobility space in international markets. With Strides' extensive operations and maintenance experience and ST Engineering's expertise, we can bring a unique Singapore Inc. blend of transport solutions and services to the global stage. We aim to connect communities and enhance lives through safe, reliable and sustainable transport beyond Singapore."
ST Engineering is a global technology, defence and engineering group with a diverse portfolio of businesses across the aerospace, smart city, defence and public security segments. The Group harnesses technology and innovation to solve real-world problems, enabling a more secure and sustainable world. Headquartered in Singapore, it has operations spanning Asia, Europe, the Middle East and the U.S., serving customers in more than 100 countries. ST Engineering reported revenue of $7.2b in FY2020 and ranks among the largest companies listed on the Singapore Exchange. It is a component stock of the FTSE Straits Times Index, MSCI Singapore, iEdge SG ESG Transparency Index and iEdge SG ESG Leaders Index.
Strides International Business is the business arm of SMRT Corporation Limited. Anchoring on strong operations, maintenance and service (OMS) experiences, transport planning expertise, as well as engineering capabilities, Strides offers end-to-end design-build-operate-maintain-transfer solutions and services to deliver reliability and safe journeys.