A joint venture to install, operate and maintain electric vehicle (EV) chargers, as well as provide other EV charging services, will be formed under a new brand ChargEco. The strategic partnership agreement was signed today between Strides Mobility, a leading mobility solutions and services provider with almost 40 years' industry experience, and YTL PowerSeraya Pte Limited (YTL PowerSeraya), an integrated energy provider with more than 50 years' experience in power generation and retail.
The two equity partners of ChargEco, Strides Mobility and YTL PowerSeraya, together with Airetec and Yes Energy formed a consortium that won a tender from the Land Transport Authority (LTA) to build charging points at Housing & Development Board (HDB) carparks in the Central and East regions of Singapore.
Mr Tan Kian Heong, President, Strides Mobility, and Mr Yeoh Keong Hann, Executive Director of YTL Power International Berhad, signed the joint venture agreement at the LTA-UITP Singapore International Transport Congress and Exhibition. Mr Seah Moon Ming, Chairman of SMRT Corporation, and Dato' Yeoh Seok Hong, Managing Director of YTL Power International Berhad, were the witnesses to the signing.
Mr Tan said, "ChargEco is a great collaboration between Strides Mobility and YTL PowerSeraya for the decarbonisation of land transport in Singapore. Together with our world-class partners, Strides Mobility is driving sustainability with our end-to-end Electric Mobility-as-a-Service solutions, which include electric vehicle leasing, charging options, EV diagnostics, repair and maintenance and sustainable financial services."
Mr John Ng, Chief Executive Officer of YTL PowerSeraya, said, "We are thrilled for this opportunity to partner with Strides Mobility and bring sustainable electrification another step closer to Singaporeans and Singapore households. We hope ChargEco will become synonymous with EV owners just as the Geneco brand is synonymous with residential electricity customers."
Beyond competing for public tenders, ChargEco aims to deliver affordable, reliable and sustainable charging services at private premises, such as condominiums, shopping malls, commercial buildings and industrial parks – with the goal of accelerating EV adoption in Singapore.
ChargEco also has plans to create a Lifestyle Fast Charging Hub across Singapore with like-minded partners. Under an upcoming collaboration with automotive company NHL Holding Pte Ltd (NHL), ChargEco will build, own, operate and maintain up to three DC fast chargers at NHL's premises in Benoi to serve EV drivers in the western region of Singapore. Each DC fast charger will have two charging guns and is able to deliver a max power between 100kW and 120kW, efficiently charging an EV from 20% to 80% in about
half an hour. While their EVs are being charged, EV drivers can rest over quick bites and drinks in the Hub's lounge area, which is open to the public.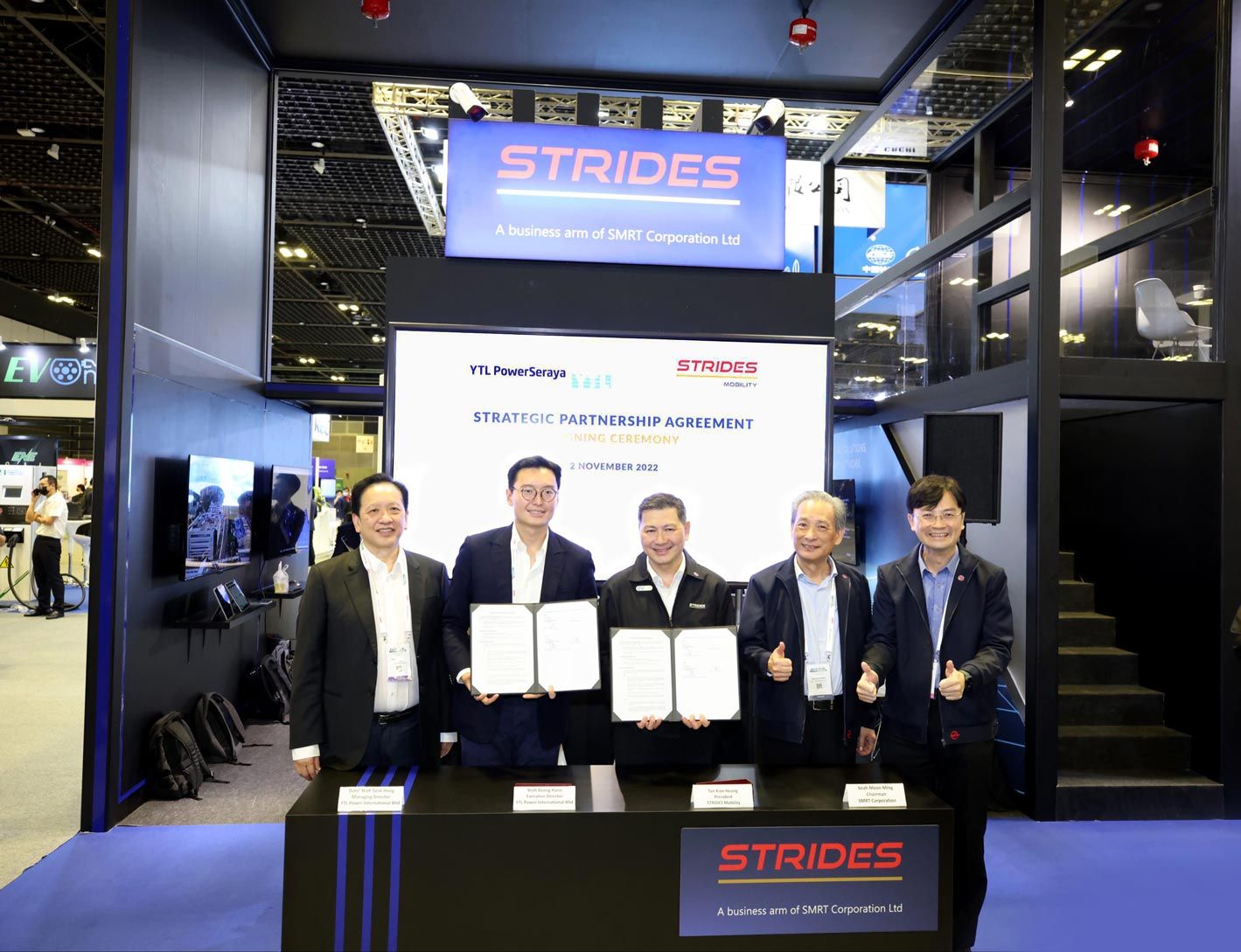 Strides Mobility has been actively supporting Singapore's goal to achieve net zero emissions – from electrifying its taxi fleet, to empowering other businesses to decarbonise their operations through digitalisation and the use of data. Leveraging its comprehensive understanding of local charging demands and EV usage patterns, Strides Mobility helps companies achieve sustainable business outcomes by optimising fleet performance and improving operational efficiency.
With a vision to be the nation's leading provider of integrated utilities and energy solutions for a greener future, YTL PowerSeraya and its retail brand – Geneco, Singapore's No. 1 residential electricity retailer – have the expertise and capabilities to offer ChargEco customers cost-competitive electricity offerings. These offerings could also be value-added with carbon credit or renewable energy certificate in the future, which would help to further offset carbon footprints.