SMRT Trains and Thales, with support from the Land Transport Authority of Singapore, inked an agreement that strengthens the reliability and availability of Thales' SelTracTM communication-based train control signalling solution for the country's North-South and East-West lines.
Apart from supplying spares and repair service, Thales will also provide under the agreement cybersecurity enhancements and obsolescence management for the existing signalling system.
This long-term services support agreement enables SMRT Trains to continue providing safe and reliable journeys for millions of daily commuters in Singapore, for the next 11 years until 2033.
Reaffirming its strength as a trusted global transportation supplier, Thales was recently awarded a long-term services support (LTSS) contract by SMRT Trains, with support from the Land Transport Authority of Singapore (LTA), for the continued reliability and availability of its SelTracTM Communication-Based Train Control (CBTC) signalling system on the North-South and East-West lines.
Leveraging Thales' deep expertise in managing complex rail projects around the globe, this programme will see Thales provide ongoing repair service, spares and technical support for the existing signalling system on Singapore's oldest train lines until 2033. During this period, a diverse and international team comprising Thales' engineering, technical and rail experts will collaborate closely with SMRT Trains to enable sustained performance of the signalling system at best standard efficiency, throughout its operational life.
Recognising the importance of service continuity, Thales will also provide both software and hardware obsolescence management and implement cybersecurity enhancements to further strengthen the cyber-resilience of the existing signalling system. To mitigate the evolving cyber threats, a dedicated team of Thales security experts will conduct technical and vulnerability checks and deliver security updates annually, or as when needed, during the contracted period.
The signing of this LTSS agreement serves as a testament to Thales' and SMRT Trains' commitment in providing safe and reliable passenger journeys for Singapore's rail commuters over the years. Thales' SelTracTM CBTC signalling system first entered into service on the North-South and East-West lines in 2017, and has since enhanced signalling system reliability as well as passenger experience as commuters now benefit from shorter waiting times between trains.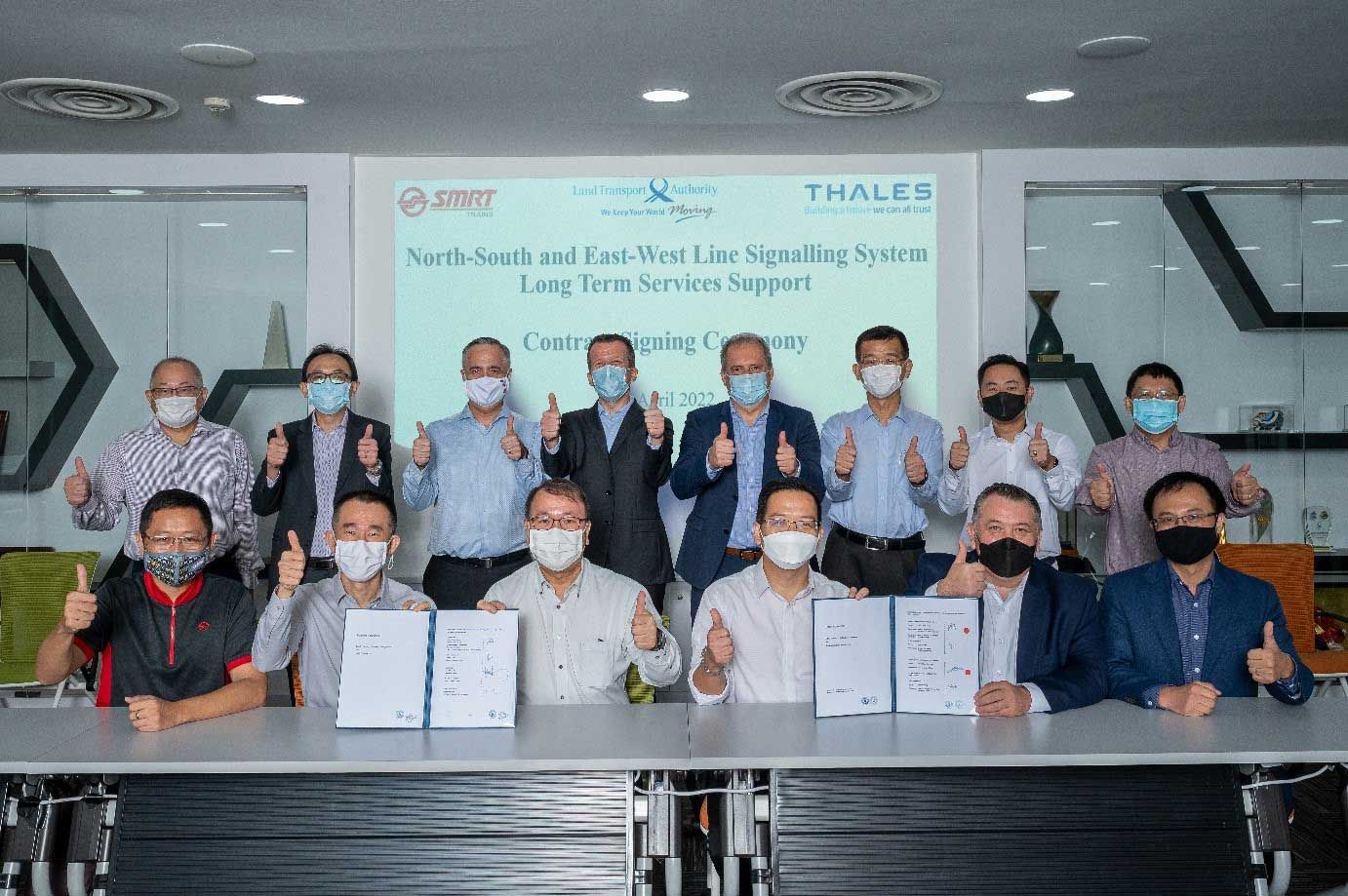 "In Singapore, Thales' transportation solutions has helped deliver smooth and efficient passenger journeys for the last two decades. With this LTSS agreement, we are entrenching our transportation footprint in Singapore, strengthening our partnership with SMRT and LTA, and demonstrating our capabilities in world-class rail signalling and cybersecurity. This contract underscores our long-term commitment to providing commuters in Singapore with the best possible experience during their commutes while ensuring that the rail network remains robust and cyber-secured." – Kevin CHOW, Country Director & Chief Executive, Thales in Singapore.
"This LTSS agreement is an important part of SMRT's plans to maintain the high reliability of our train services in a sustainable way, as well as to manage obsolescence for the maintenance of rail assets in the years ahead. The LTSS will also allow SMRT engineers to work closely with Thales to deepen our knowledge and competencies in the signalling system. With the support of LTA, we are happy to continue working closely with Thales as we strive to provide safe and reliable train journeys for commuters in Singapore." – LAM Sheau Kai, President, SMRT Trains
About Thales
Thales (Euronext Paris: HO) is a global leader in advanced technologies, investing in digital and "deep tech" innovations – connectivity, big data, artificial intelligence, cybersecurity and quantum technologies – to build a confident future crucial for the development of our societies. The Group provides its customers – businesses, organizations and governments – in the defense, aeronautics, space, transport, and digital identity and security domains with solutions, services and products that help them fulfil their critical role, consideration for the individual being the driving force behind all decisions.
Thales has 81,000 employees in 68 countries. In 2021, the Group generated sales of €16.2 billion.
About SMRT Trains
SMRT Trains Ltd is the first and largest train services provider in Singapore. As a subsidiary of SMRT Corporation Ltd, we manage and operate train services on the North-South Line, East-West Line, the Circle Line, the new Thomson-East Coast Line and the Bukit Panjang Light Rail Transit.
We have set our core values to be Respect, Integrity, Safety and Service, and Excellence. SMRT Trains is committed to provide safe, reliable and comfortable service for our commuters.